Wine Tips of the Week - Wines of the USA "102" and Madison Lee Red from Shelton Vineyards
"Cheers" from Vintage Connections
Dean and Lisa Foster, Wine Educators and Consultants
This week we are previewing our
Wines of the USA
course and an easy-to-drink red blend from Shelton Vineyards in the Yadkin Valley of North Carolina.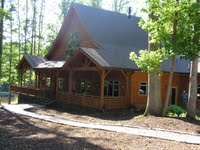 Wines of the USA 102
(or part II) - Almost every winery in almost every state produces Chardonnay, Cabernet Sauvignon, and Merlot, and many wineries in many states produce Riesling and Pinot Noir. In this class, we're going to sample and learn about what may be unexpected wines from unexpected places.
Georgia. Hot, muggy, clay soil, not an ideal climate or environment for wine grapes (vinifera grapes anyway). But in the North Georgia mountains, spanning from Dahlonega to Clayton is the North Georgia Wine Highway. You never know what you might find at a winery here.
North Carolina. Some of our favorite wines are produced in the Yadkin Valley and we're shopping for something special to taste and share in class.
Virginia. Virginia produces some signature wines, especially Viognier and Norton (also know as Cynthiana) as well as the usual vinifera grape wine.
Maryland. One of our all-time favorite wineries is Fiore, just outside Pylesville, Maryland. We hope to stop there and bring back something special.
Pennsylvania. We have some older vintages of some excellent Pennsylvania wines aging in our cellar (OK, a closet in the basement). We may just bring one of our favorites to share with the class.
Madison Lee Red Table Wine - 2006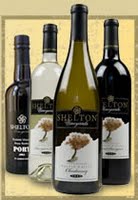 From Shelton Vineyards in North Carolina, this easy drinking red table wine is a Bordeaux style blend of 60% Cabernet Sauvginon, 30% Merlot and 10% Cabernet Franc. We often suggest this wine to our friends who aren't sure if they like red wine. It is medium-bodied, rich deep red in color. It has aromas of ripe red fruits and flavors of berries, vanilla and a hint of spice. Alcohol is 13.5% by volume. Available only at the winery for $11.99.



Upcoming Wine Events in the Pottstown Area

Wines of the USA
, Thursday, April 22. A one night wine seminar at Montgomery County Community College's West Campus in Pottstown.
6:30 - 9:30 PM, $52 per person.
Wines of the World
, Thursday, April 29. A one night wine seminar at Montgomery County Community College's West Campus in Pottstown, 6:30 - 9:30 PM, $52.
Additional information about these classes is available on page 30 of
this brochure
.
Register for these classes by going to the College's non-credit
registration webpage
.
Cinco de Mayo
, Wednesday, May 5. Wines from Spain, Chile, and Argentina at the Gallery School of Pottstown. Begins promptly at 6:30 PM. $45 per person.
Register for Cinco De Mayo by going to the Gallery School's
website
.
American Wine Society Educational Foundation Wine Tasting and Appetizer Pairing
, Saturday, September 18, at the Perkiomen Library in Schwenksville. Time and Cost TBD. See the
AWS Perkiomen Chapter website
.
Mom's House Benefit Wine Tasting Dinner
, Saturday, 6:30 PM, October 23 at the Kimberton Arts Center. $75 per person or $525 for a table for eight. See
Mom's House website.

Contact us to schedule an event in your home, at your business, or for your organization.
Vintage Connections
Lisa and Dean Foster
Labels: Madison Lee Red Table Wine