Wine Tips of the Week # 12 - Clos Reissier Pouilly-Fuisse` and Vynecrest's Lemberger
Thanks to those of you who participated in

Wine after Five with Chocolate

on Saturday night. Special thanks to Cathy, Erika, and Julie at the Gallery School, to Chef Steve O'Donnell for the wonderful chocolate desserts, and to Betsy Chapman for her romantic interludes on her harp. It seems like everyone had a wonderful time.
Clos Reissier Pouilly-Fuisse`

-
From the village of Chaintre`, France. 100% Chardonnay - "the" white wine of Burgundy. Wine in France is named after the region in which it is grown and made, not the grape variety. Since this chardonnay is grown and made in
Pouilly-Fuisse`
rather than Burgundy, it's a
Pouilly-Fuisse`

not a

Burgundy

.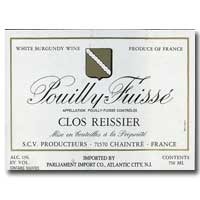 This Chardonnay is
rich and full-flavored.

Lovely straw-colored, it has a pleasant fruity flavor, is lightly oaked and has a pleasantly long finish.

Clos Reissier Vineyard is one of the most famous vineyards in the Pouilly-Fuisse` region.

We've had other Chardonnays from the Pouilly-Fuisse` region, but this was the best wine so far, in our opinion.

Alcohol is 13% by volume.

PLCB code 22292
. At the time of this writing, it was available at PA Wine and Spirits stores in Lionville Shopping Center, Collegeville and Limerick at

$17.99 per bottle. Check the PLCB website for availability near you, or ask your local store to order it for you.
Vynecrest Lemberger
–
This is a full-bodied dry red, also known as Blaufrankisch in Austria and Kekfrankos in Hungary. It is a German varietal and is deep red in color. It's distinctive flavor makes this wine an interesting alternative to the usual red table wine. Lemberger can be either very bold or gently light. The Vynecrest Lemberger tends to be more boldly flavored. It has good tannins so that it can be cellared for a few years, but is also great to drink now. It has a long finish. Alcohol is 13% by volume and is available at the winery
for $14.99.
Upcoming Events
March Madness
This extremely popular event at the Lehigh Valley wine trail wineries takes place during the month of March and at most of the wineries is truly madness.

"Discover wine's East Coast valley! The Lehigh Valley Wine Trail is home to nine family-owned vineyards and wineries that have brought home the Governor's Cup for eight out of the last nine years and won countless regional, state, national and international awards, including more than 50 for wines made from Chambourcin, its signature grape.
For more information about the Lehigh Valley Wine Trail and March Madness, go to our blog at

http://vintageconnectionswineinfo.blogspot.com/
Thanks
to those of you who have posted comments on our blogs. Please take a look and post some comments of your own. We'd really like to get some wine discussion going on about the

Wine Tips of the Week.

Did you try them, like them, not like them? What are YOU drinking?
Additional Upcoming Wine Events in the Pottstown Tri-County Area

Thursday, April 22, Wines of the USA, one night wine seminar at Montgomery County Community College's West Campus in Pottstown, 6:30 - 9:30 PM, $52.

Thursday, April 29, Wines of the World, one night wine seminar at Montgomery County Community College's West Campus in Pottstown, 6:30 - 9:30 PM, $52.
Wednesday, May 5, Cinco de Mayo, wines from Spain, Chile, and Argentina at the Gallery School of Pottstown.
Begins promptly at 6:30 PM. Cost TBD.

Saturday, October 23, Mom's House Benefit Wine Tasting Dinner. Location, Time and Cost TBD.

Many other events are TBD. Contact us to schedule an event in your home, at your business, or for your organization.
Vintage Connections
provide
* Wine Appreciation Classes and Seminars
* Customized Educational Wine Tastings in your home or at your business
* Benefit Educational Wine Tastings for non-profit organizations

Vintage Connections
Lisa and Dean Foster