Wine Tip of the Week - Brancott Reserve Sauvignon Blanc and Brandywine Valley Wine Trail


"Cheers" from Vintage Connections
Dean and Lisa Foster, Wine Educators and Consultants
This week we are providing one
Wine Tip
and
Wine In Depth
about the Brandywine Valley Wine Trail.
Brancott Reserve Sauvignon Blanc 2008
- From Marlborough, New Zealand.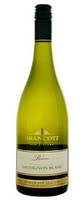 We are constantly looking for good Sauvignon Blancs and those from Marlborough seem to be consistently good. The Brancott Reserve is no exception. As the chief wine maker Jeff Clarke states about the 2008 vintage "the flavors are bold, ripe and zesty, exactly what you'd expect from a Marlborough Sauvignon Blanc". Light straw color with slightly green highlights, the aroma is full of tropical fruits and grapefruit. The flavor is full of fruit and has well-balanced acidity for a long and lingering finish. Brancott feels that this wine could be cellared for 2 to 3 years to develop its complexity. Alcohol is 13.5% by volume. PLCB product code is 9326 and is currently on sale for $16.99. Available a most PA Wine and Spirit Stores.
Brandywine Valley Wine Trail
For additional information and photos, go to the Vintage Connections Wine Info blog at
http://vintageconnectionswineinfo.blogspot.com
/
Consisting of eight wineries in the Chester County area of PA, this is a wine trail worth the trip. Each of the eight wineries has something unique to offer. From the brand new Black Walnut Winery to the well-known Chadds Ford Winery, there is something for everyone in the Brandywine Valley. All but Patone Cellars offer tastings throughout the year in beautiful settings at unique and tasteful tasting rooms.
Just in time for trips to ease the winter "cabin fever", the Brandywine Valley Wine Trail is having their annual Barrels on the Brandywine wine tasting during the month of March. A passport, good for tastings at all eight wineries, is available on-line for $25 per person and at the wineries. Only a limited number of passports are sold, so we recommend calling your closest participating winery to make sure they still have passports available. Order by Tuesday on-line for delivery before the following weekend.
Brandywine Valley wineries' hours of operation and tasting fees vary. Check their websites or give them a call for details.
The Brandywine Valley Wine Trail website is
http://www.bvwinetrail.com/
You can link to all eight of the wineries' websites and find their phone numbers from there.

Up-coming Wine Events in the Pottstown Area
Wines of the USA,
Thursday, April 22. A one night wine seminar at Montgomery County Community College's West Campus in Pottstown.
6:30 - 9:30 PM, $52 per person.
Wines of the World,
Thursday, April 29. A one night wine seminar at Montgomery County Community College's West Campus in Pottstown, 6:30 - 9:30 PM, $52.
Wine Making and Tasting Appreciation
, sevens Wednesdays, March 31 through May 19, 6:30-8:30 PM (no class April 21). Montgomery County Community College's West Campus in Pottstown, $189 per person.
Additional information about these classes is available at
http://www.mc3.edu/Media/Website%20Resources/pdf/coned/brochure.pdf
Register for these classes by going to the College's website at
http://www.mc3.edu/workforceDevelopment/register.aspx
Cinco de Mayo,
Wednesday, May 5. Wines from Spain, Chile, and Argentina at the Gallery School of Pottstown. Begins promptly at 6:30 PM. $45 per person.
Register for Cinco De Mayo by going to the Gallery School's website at
http://www.galleryonhigh.com/wineafter5.html
Mom's House Benefit Wine Tasting Dinner,
Saturday, October 23. Location, Time and Cost TBD.
Contact us to schedule an event in your home, at your business, or for your organization.
Vintage Connections
Lisa and Dean Foster
Labels: Brancott Reserve Sauvignon Blanc, Brandywine Wine Trail