Wine Tips of the Week - Wishing Tree Shiraz and Grape Leaves
"Cheers" from Vintage Connections
Dean and Lisa Foster, Wine Educators and Consultants
This week we are providing one Wine Tip and Wine in Depth about grape leaves.
This Week's Wine Tips!
The Wishing Tree 2006 Shiraz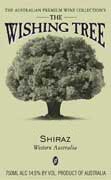 Named for a beautiful old oak tree in a park that owner John Larchet used to play in as a child and would make wishes under, this 100% shiraz (syrah) wine is from Western Australia and embodies all the best characteristics of a good Australian Shiraz. It has the "classic notes of black pepper and leather" with rich red and dark berry flavors. With a smooth, almost sweet finish, this dry ruby red wine exhibits almost no tannins and is ready to drink now. It is one of the Australian Premium Wine Collections. Great with lamb dishes. Alcohol is 14% by volume. PLCB code is 10536. Cost is $10.99. We found this wine at the PA Store at Berkshire Mall West. Check your local stores and if they do not have it, ask if they can get a bottle for you (at the $10.99 price).
Wine in Depth - Grape Leaves
Now that spring is nearly upon us and the grape vines will soon be budding, we thought we would give some thought to the grape's leaves.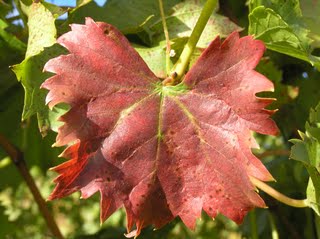 Did you know that leaf shapes and sizes vary from grape to grape? They all have the same general shape, but many are deeply lobed and some barely lobed at all. Some leaves are quite large while others are fairly small. Many viticulturalists use leaf identification to ascertain whether they are planting the correct wine grape in their vineyards.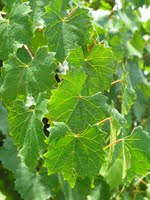 And of course, there is the delicious custom that most middle eastern countries have of stuffing grape leaves and eating them. The grape leaves for this tasty treat are usually purchased at your local store already brined, but many purists want the fresh leaf for their recipe. If you find yourself wanting to try this, just be sure the leaves you choose have not been sprayed, but are completely organic, or you'll end up with toxins in your stuffed grape leaves. Also, be sure to check with your local vineyard before you start clipping leaves. Some leaves need to be left on the vine and the vineyard owner will know which ones can be safely clipped and which ones not. For more information, go to our Vintage Connections Wine Info blog at
Up-coming Wine Events in the Pottstown Area
Thursday, April 22, Wines of the USA, one night wine seminar at Montgomery County Community College's West Campus in Pottstown,
6:30 - 9:30 PM, $52.
Thursday, April 29, Wines of the World, one night wine seminar at Montgomery County Community College's West Campus in Pottstown, 6:30 - 9:30 PM, $52.
Wednesday, May 5, Cinco de Mayo, wines from Spain, Chile, and Argentina at the Gallery School of Pottstown. Begins promptly at 6:30 PM. Cost TBD.
Saturday, October 23, Mom's House Benefit Wine Tasting Dinner. Location, Time and Cost TBD.
Many other events are TBD. Contact us to schedule an event in your home, at your business, or for your organization.
Vintage Connections
Lisa and Dean Foster
Labels: Wishing Tree Shiraz