Wine Tips of the Week - J. Lohr Syrah and the American Wine Society Perkiomen Chapter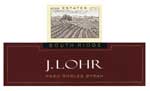 "Cheers" from Vintage Connections
Dean and Lisa Foster, Wine Educators and Consultants
This week we are providing a tip about J. Lohr Syrah and a tip about the American Wine Society - Perkiomen Chapter, a wine-tasting group we participate in that you can join if you are interested.
This Week's Wine Tips!
J. Lohr South Ridge Paso Robles Syrah
We've enjoyed this wine several times and recommended it to friends who have enjoyed it as well.
This remarkably well-balanced Syrah is made from 2 clones: French Chapoutier and Australian Shiraz #2 grown in the Estrella Hills area of Paso Robles, CA. With aromas of black cherry and blackberry, it is rich, dark and fruity with a light toasted oak flavor. It underwent primary fermentation in stainless steel, then malolactic fermentation in French and American oak barrels for 14 months. A great wine with grilled meats. The J. Lohr Syrah is available at most PA Wine and Spirit stores for $15.99. PLCB product code is 6311. Alcohol is13.5% by volume.
J. Lohr Vineyard was first started in Monterey's Aroyo Seco region of California. Jerry Lohr then bought land and started a vineyard in San Jose` and finally moved into Paso Robles. His wines are divided into different series: the Cuvee` Series which is his "artistic" approach to wine-making; the Vineyard Series which is his "luxury" wine; the Estate Series which is his line of estate produced varietals; Cypress Vineyards which is his series of everyday wines; Painter Bridge series which he considers "entry level" wines, and the Aerial series of non-alcoholic wines. If you ever visit J. Lohr Vineyards in California, you may even get a guided tour of the winery by Jerry himself.
American Wine Society - Perkiomen Chapter
The American Wine Society (AWS) was created in 1967 as a non-profit organization to promote wine education, wine-making and wine appreciation. Its first meeting was held at Dr Konstantin Frank's vineyard on Keuka Lake in the Finger Lakes region of New York.
AWS membership is open to the general public and attracts members from all aspects of the wine community, from educators to wine-makers to just those of us who like a good glass of wine and would like to know more about what we're drinking.
There are many local AWS chapters in Pennsylvania. Some chapters have very formal tastings while others are very relaxed. Most chapters have a visitation policy where you can visit a wine tasting to see if their style suits your needs. All chapters promote wine education. Attending wine tastings allows members and visitors a chance to sample various wines and to learn a little more about each wine. There is usually a tasting fee that helps with the costs of the wine. Some wine tastings are all the same type of wine, but from different vineyards while other tastings may be different wines from a particular wine region. Many chapters meet in individual members' homes. It is often up to the host of the tasting to choose the wines and the theme of the tasting.
The local chapter that we attend and fits our needs is the Perkiomen Valley Chapter. This group is informal. Between 20 and 30 of us gather on the 4th Sunday of each month at 3:30 PM at someone's home, taste 4-5 wines and some snacks that the hosts have paired with the wines. Guests can attend up to three tastings before joining. If you are interested in attending a tasting, let us know. We are hosting a tasting at our home on Sunday, April 25. Tastings are usually $15 per person.
See the AWS website at http://www.americanwinesociety.org/
The Perkiomen Valley Chapter's website is
http://sites.google.com/site/americanwinesocietyperkiomen/
If you want more information about the Perkiomen Chapter, please email us.
Upcoming Events
March Madness is sold out according to the Lehigh Valley Wine Trail website http://www.lehighvalleywinetrail.com/
Many wineries may still allow regular tastings but most wineries will be very crowded on week-ends during March. If you don't have a ticket, we recommend you don't go to Lehigh Valley wineries on weekends in March. Check each winery's website for their weekday hours of operation. Some are open seven days a week while others are only open on the weekends.
Thursday, April 22, Wines of the USA, one night wine seminar at Montgomery County Community College's West Campus in Pottstown,
6:30 - 9:30 PM, $52.
Thursday, April 29, Wines of the World, one night wine seminar at Montgomery County Community College's West Campus in Pottstown,
6:30 - 9:30 PM, $52.
Wednesday, May 5, Cinco de Mayo, wines from Spain, Chile, and Argentina at the Gallery School of Pottstown.
Begins promptly at 6:30 PM. Cost TBD.
Saturday, October 23, Mom's House Benefit Wine Tasting Dinner. Location, Time and Cost TBD.
Many other events are TBD. Contact us to schedule an event in your home, at your business, or for your organization.
Vintage Connections
Lisa and Dean Foster
Labels: J. Lohr Syrah