Wine Tips of the Week - Blair Chardonnay and Marchesi di Barolo

Blair Vineyard Chardonnay
Blair Vineyards is a family-owned and operated vineyard and winery near Mertztown. Blair makes a variety of wines, mostly dry reds and whites including Chardonnay, in several styles. We could really taste the differences among the different styles and vintages, and truly liked them all.
We especially like the 2005 Chardonnay fermented and aged in both French and American oak. It is very fruit-forward with hints of melon and vanilla, with light toast flavors and a long finish. It has 12.5% alcohol so is not hot or harsh like some Chardonnays from California or Australia.
This wine was $15.99 and, like most of their wines, is available at the winery near Mertztown and at Frecon Farms near Boyertown.
Marchesi di Barolo, Maraia 2007 Barbera Monferrato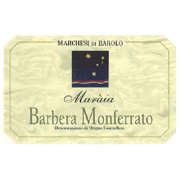 Marchesi de Barolo is a historic vineyard located in the Piedmont area of Italy. This is an easy-drinking red made with 100% Barbera grapes. This is a medium-bodied red wine with plenty of fruit and a pleasant dryness that unfolds to an attractively robust flavor and a long finish. It is splendid with red meats, but also goes well with pork, veal and even turkey. It has 13.5% alcohol by volume.
This wine is available only at selected Pa. Wine and Spirit stores for $11.99, so check with your local store for availability. PLCB product code is 08619.
Labels: Blair Vineyard, Frecon Farms, Marchesi di Barolo