Wine Tip of the Week - Old Vine Zinfandel from Bogle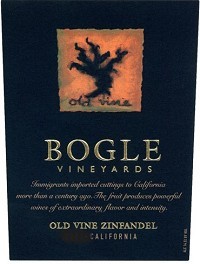 "Cheers" from Vintage Connections
Dean and Lisa Foster, Wine Educators and Consultants

We hope everyone had a Happy New Year!


This Week's Wine Tips!
Mid-winter is a great time for hearty reds.
One of our favorites is Old Vine Zinfandel from Bogle. In fact, a wine-maker friend of ours told us that he's "never met a Bogle he didn't like" so during our New Year's celebrations with friends and family we tried several red Bogle's we had not tasted before. We like ALL of them.
Bogle's Old Vine Zinfandel is outstanding, is available in almost every PCLB Wine and Spirits store as a "regular" purchase for $12.99. Product code is 5043. You should be able to find this wine and purchase it regularly, but still check your local store for availability before driving there.
We agree with the winemaker's notes as provided below.
Head-trained, dry farmed old vines are again the source for Bogle's Old Vine Zinfandel. These gnarly old vines produce concentrated fruit of unsurpassed quality and intensity. This supple and mouth-filling vintage leads with juicy blueberry and ripe blackberry fruit. Black pepper and hints of chocolate notes integrate well with this soft, plush body. Subtle hints of spicy oak and pipe tobacco create structure, allowing this wine to stand up to a variety of fare.This is the perfect wine to pair with everything from rich sauces and unique dishes, to your favorite weeknight take-out.

To see a few other Wine Tips this week, go to our
Vintage Connections Wine Info
blog by clicking on the link on this page.
Upcoming Wine Events in the Pottstown Tri-County Area
Saturday, February 13.
Wine after Five with Chocolate on the Side - Wine and Chocolate pairing seminar for Valentine's Day, at the Gallery School of Pottstown. Begins promptly at 6:30 PM. Snow date February 20.
$65 per person, $120 per couple, or $55 for Gallery School members.
Make reservations through the Gallery School website by clicking on the Gallery's link on this page.
Saturday and Sunday, February 13 and 14.
For more information, click on the Berks County Wine Trail link on this page.
Labels: Berks County Wine Trail, Gallery School of Pottstown, Wine and Chocolate